---
The Uniform shop is open for click and collect only under the current covid restrictions - Monday/Tuesday/Wednesday/Thursday 8-2pm. Closed Friday


New Entrant Uniform Fittings - 2022:
We will be running uniform fittings for all new entrants only on:
Saturday 22 January 9-5pm
Monday 24th – Thursday 27th January 9-5pm
Friday 28th 9-12pm
You will receive further information via email with your login in details to make your booking
WINZ and Variety Club Quotes for uniform
These must be done before the end of term 4, 2021. Please email [email protected] promptly to receive your quote, these need to be done prior to the New Year uniform fittings, to ensure we can process your uniform order. You must also book for the new entrant uniform fittings.
Price increases
Due to price increases from our supplier, we are having to make some price increases to some of our uniform items going forward. Please see below for pricing.
Payment:
We are currently NOT accepting cash
Payment via EFTPOS, credit card and myMonitor only
Please note: Credit and debit card payments incur a 3% transaction fee surcharge
---
Online Shop Ordering
Some items are now available in our online shop - Monitor Online. Once you have completed your purchase online you can pick it up the next day at the uniform shop.
---
Uniform Requirements 2022:
All Year Groups
Blazer
White shirt with school emblem
School tie
Grey shorts or trousers
WBHS charcoal socks
All students are required to purchase a House T-Shirt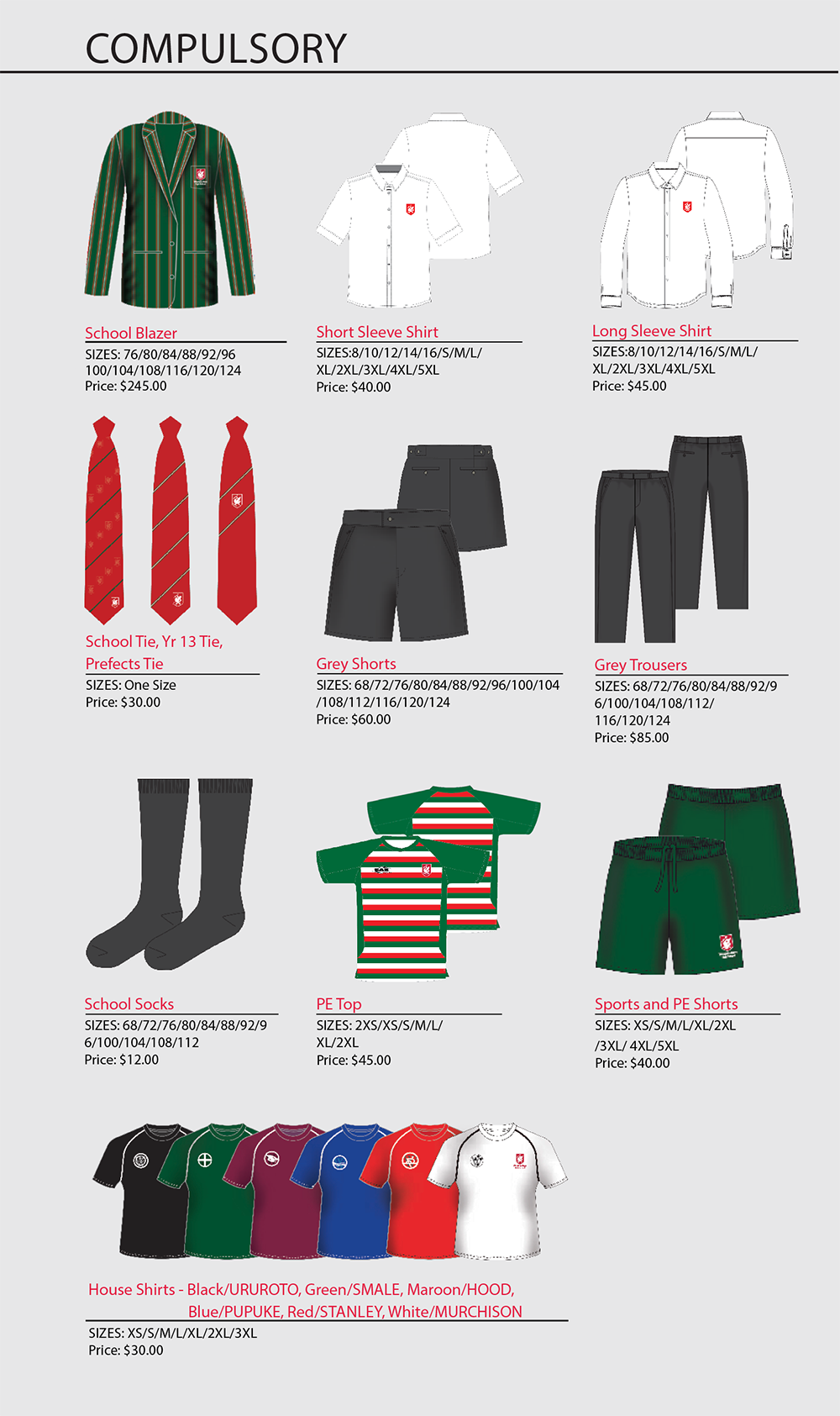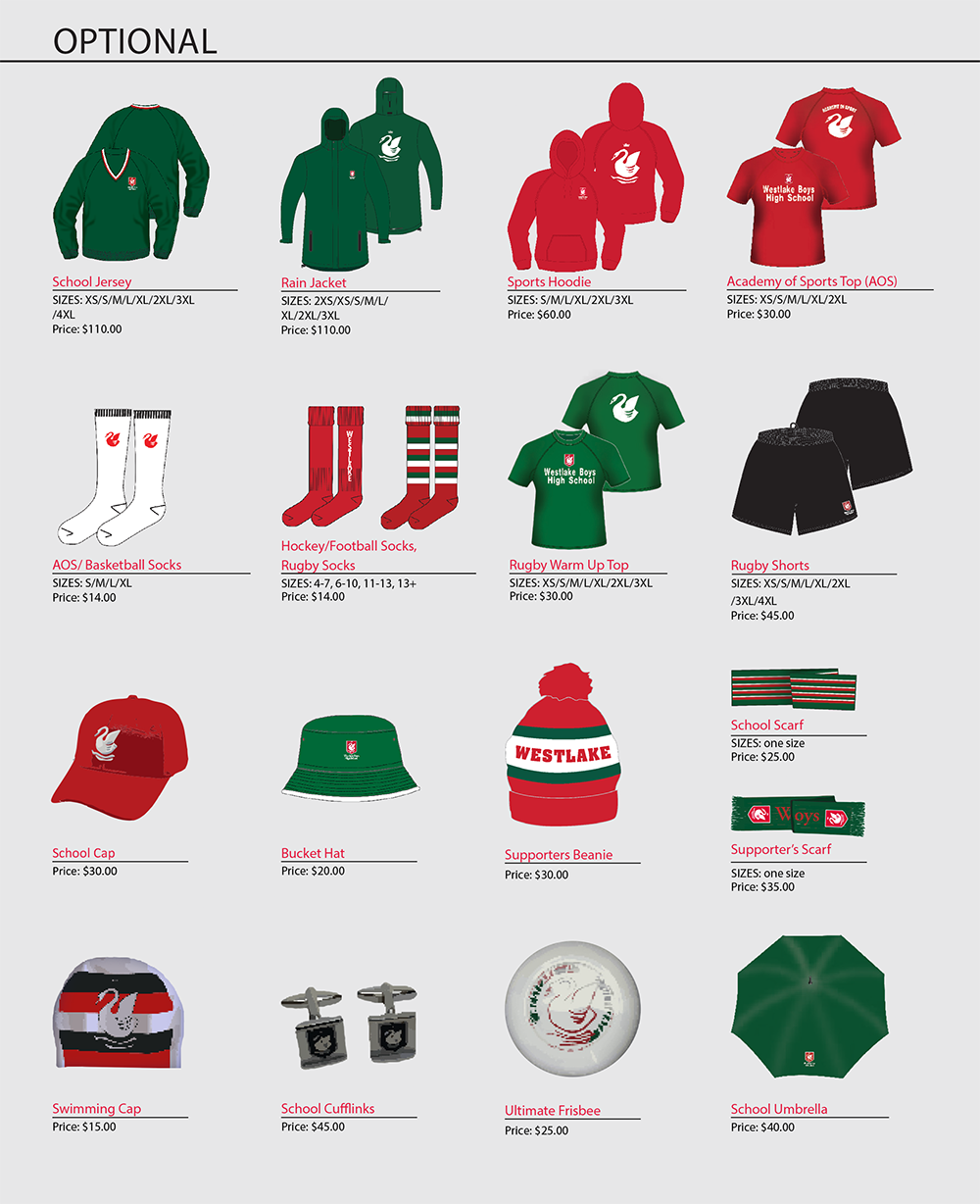 ---
Whole School Optional Items
Dark green v neck jersey embroidered with school emblem
Charcoal trousers
Black polished business style shoes
Brown or black leather sandals with heel strap – heel strap is compulsory
Westlake Rain Jacket (Green) - worn ONLY when raining
All students are required to purchase a House T-Shirt.
If you are 'on selling' your son's Blazer (i.e. on Trade Me or privately) please email through the name of the new student owning the blazer, and the blazer number, so we can update our records.
---


Sports Uniform

Year 9-10

Sports Uniform.
Years 11-13



---
IMPORTANT!
Uniforms are not to be altered, with the exception of trousers
which can be hemmed at the bottom as necessary.
Shoe Requirements:
Shoes are to be black business style shoes and may be either lace-up or slip-on
Students may choose to wear sandals but these must have a back strap


---
Stationery
Recommendations:
We recommend that you purchase stationery from Stationery City at 2 Porana Road (Opposite Pak n Save).
They have our full range of stationery and stationery lists for all year levels.
We have a rebate agreement with this company


Basic stationery is available at the WBHS Uniform Shop, this includes: exercise books, refill, ballpoint pens, erasers, pencils, rulers, glue sticks, compass, calculators, protractor, art folders, clear files, twink, paintbrushes, art paint, blue tak.
Contact
Email: [email protected]
Phone: 410 8667 ext 5806